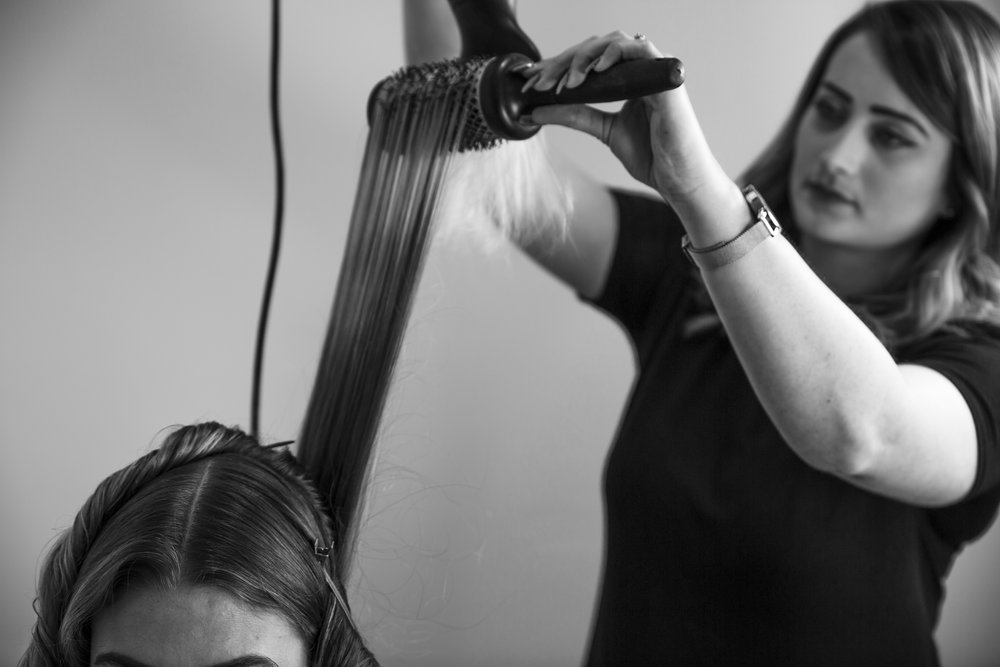 Why should you have a Keratin Blow Dry?
A keratin blow dry can do beautiful things for your hair…
Since we offer them in our Bristol salon, we thought we'd take you through just a few of the benefits. Spoilers! They include making your hair shinier, healthier, and frizz free.
Brighter Shine
Keratin is a protein naturally found in your hair, skin and nails. Your hair can lose shine when its outer layers become broken or porous.
Keratin helps to smooth and mend these layers. The treatment can even make split ends seem to disappear by temporarily bonding the hair back together.
A smoother finish means shiny, glossy hair that can attract some serious attention.
Strength and Length
Not only does the keratin protein repair any existing damage to your hair, it also protects it from UV rays!
With your hair strengthened through the power of keratin, it will be less prone to breakage. This means that you can look forward to hair which can grow longer, healthier.
Goodbye Frizz
Your hair becomes frizzy when it looses moisture or the surface layers are damaged. By repairing the outer layers of your hair, keratin blow dries seal in the moisture. This banishes frizz from your style, even on drizzly or humid days.
Keratin also makes your hair much more manageable as a whole – taming curls and softening coarse hair. If you've spent years fighting your hair into submission every morning, this treatment might just be a life saver.
Long-Lasting
Keratin doesn't permanently change the structure of your hair like some chemical relaxers, but it can still last between 2 and 6 months.
This saves you styling and blow drying time every day and means your hair won't be exposed to regular heat.
Colour Lock
If you've recently coloured your hair, or if you're planning to, here's a secret: keratin blow dries can keep your hair much more vibrant for longer!
Dye escapes your hair when the cuticle opens or becomes damaged, leading to disappointing colour fade. Keratin prevents this by strengthening the surface of your hair and sealing in the colour.
Heated tools and UV rays are also damaging to coloured hair. However, you'll have little reason to reach for the straighteners after a treatment! By coating the surface of each hair, keratin can also provide some protection from the sun.
You'll also find that many of the gentler, sulphate-free hair products needed for coloured hair are keratin-friendly too.
What else to consider…
There are a few things to bear in mind before getting a keratin treatment. A major one is that your hair will need some special care for some time after the treatment, so make sure you're ready to give it. This often includes keeping your hair dry and wearing it down for three days.
It also isn't recommended that you colour or bleach your hair too soon after a keratin treatment, although you can do this beforehand.
Something else to think about is whether this treatment is suitable for your situation and hair type. If you have fine or frequently processed hair, you might be recommended an alternative hair-taming treatment such as Phrizzy-o-therapy. You should also check in with your stylist if you're pregnant or breastfeeding.
Ready for your hair glow-up?
Great! We're excited to help you to soft, manageable hair that looks gorgeous from the moment you wake up.
You can book a keratin blow dry at our Bristol salon. Prices start at £130 in Wells, £145 in Bristol. We're looking forward to seeing you!