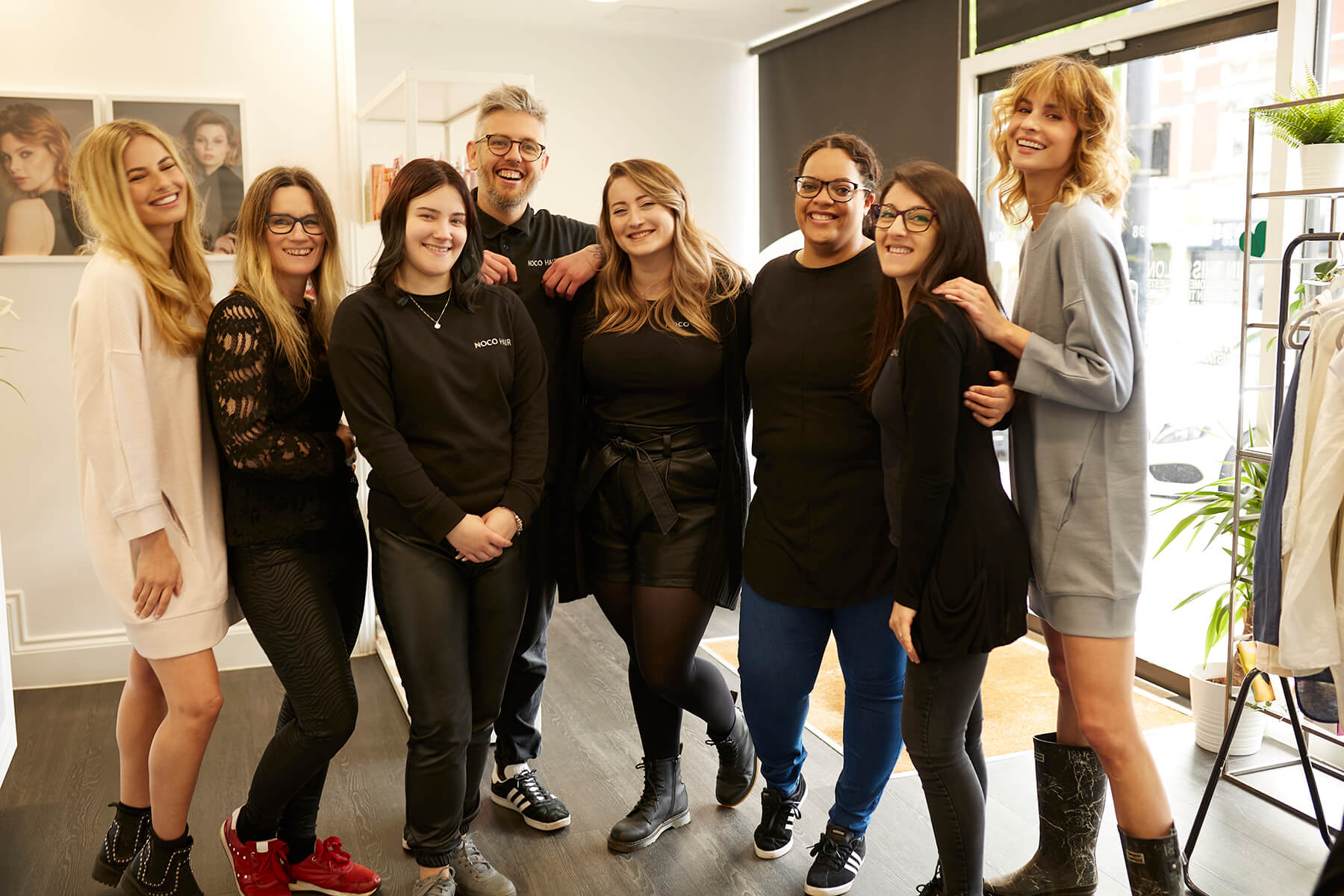 Bristol salon owners fly the flag for independent business winning best newcomer in national awards
NOCO Hair salon in Bristol has won the coveted title of Independent Salon – Business Newcomer of the Year at HJ's British Hairdressing Business Awards 2019.
The salon on Whiteladies Road in Clifton, which launched in 2018, beat off finalist competition from five other start-up salon businesses from around the country to win the national accolade.
The Independent Salon Business – Newcomer of the Year award recognises the stand-out British hairdressing entrepreneur who has made their business dream a reality and launched a successful salon in the last two years.
Salon managing directors, Corey Taylor and Noel Halligan received the coveted title from celebrity host Vernon Kay at the high-profile affair, hosted at the Westminster Bridge Park Plaza Hotel in London on September 9th, which attracted peers and influencers from the hair world.
Corey and Noel, who run the newly launched salon and employs five stylists, impressed a host of industry judges with their business plan, and brilliant customer retention, along with a display of all- round business health and growth since the salon's inception.
Commenting on the announcement, Jayne Lewis-Orr, executive director of HJ's British Hairdressing Business Awards said; "Corey and Noel have crafted an amazing business from scratch. That truly is a mark of incredible entrepreneurial flair. To build a salon demonstrates passion and unrelenting commitment and NOCO Hair has lots of individuality, founded on brilliant business structure and marketing ideas".
"It's always a pleasure to see stylists making the brave decision to open their own salon. Launching a business and hiring a team is no doubt a big decision, but we are so grateful for these courageous risk-takers who make our high streets more vibrant and diverse.
"Corey and Noel are fantastic ambassadors for the industry with skills and vision that make them the perfect winners."
On being the newly crowned Independent Salon – Business Newcomer of the Year, managing director and founder Corey Taylor and said: "We can't put into words what winning this means… we're speechless! We want to thank everyone who supported us on the way, especially our team who are really something else. It's only been ten months since we opened, but it already feels like we've been doing this together forever. I attribute our success to the fact that we aren't scared of asking our heroes how they got there and taking on board advice. We ask lots of questions and then turn what we learn into something that works for us and it's working!"
Salon International, Britain's biggest professional hairdressing show sponsored the Independent Salon – Business Newcomer of the Year category. Jayne Lewis-Orr adds: "There are so many aspects to planning and starting a new salon. I take my hat off to people like Corey who don't let the fear of the unknown hold them back from following their dream. Many people wait until they know all the details and feel like they're an expert in all things commercial, but she has committed and had well deserved success."
HJ's British Hairdressing Business Awards recognise the strategists, entrepreneurs and stand out stars in the hair industry, highlighting the business side of a world that is predominantly known for its creativity and links to fashion. The awards, now in their 21st year, celebrate the people making the British hairdressing industry the most respected in the world. The sixteen categories spotlight the people making the industry great, from the best team, to most accomplished salon manager, to outstanding assistant to new innovation. Franchisee, stylist and customer care programmes are also recognised in the line-up, as well as specific awards for salon design and the stylist making the most of social media to grow their business.
There are over 40,000 hairdressing, barbering and beauty businesses in the UK. The industry employs nearly 300,000 individuals with over half being self-employed, and 88% being female. Hairdressing is the 10th most popular apprenticeship in England, with 19,000 young people choosing a hairdressing career each year.*
Hairdressing affords people extraordinary opportunities including entrepreneurship, leadership, worldwide travel as a session stylist or educator and a creative and business outlet for driven individuals.
Launched in 1998, HJ's British Hairdressing Business Awards promote professionalism, innovation and excellence; recognising those individuals and teams who work tirelessly to raise the profile of the hairdressing industry. Previous winners include TONI&GUY, Rush, Electric and Lee Stafford.
The event took place on 9th September 2019 at the Park Plaza Hotel, Westminster Bridge, London. For further details please visit https://www.hji.co.uk/british-hairdressing-business- awards/britishhairdressing-business-awards-2019-winners/