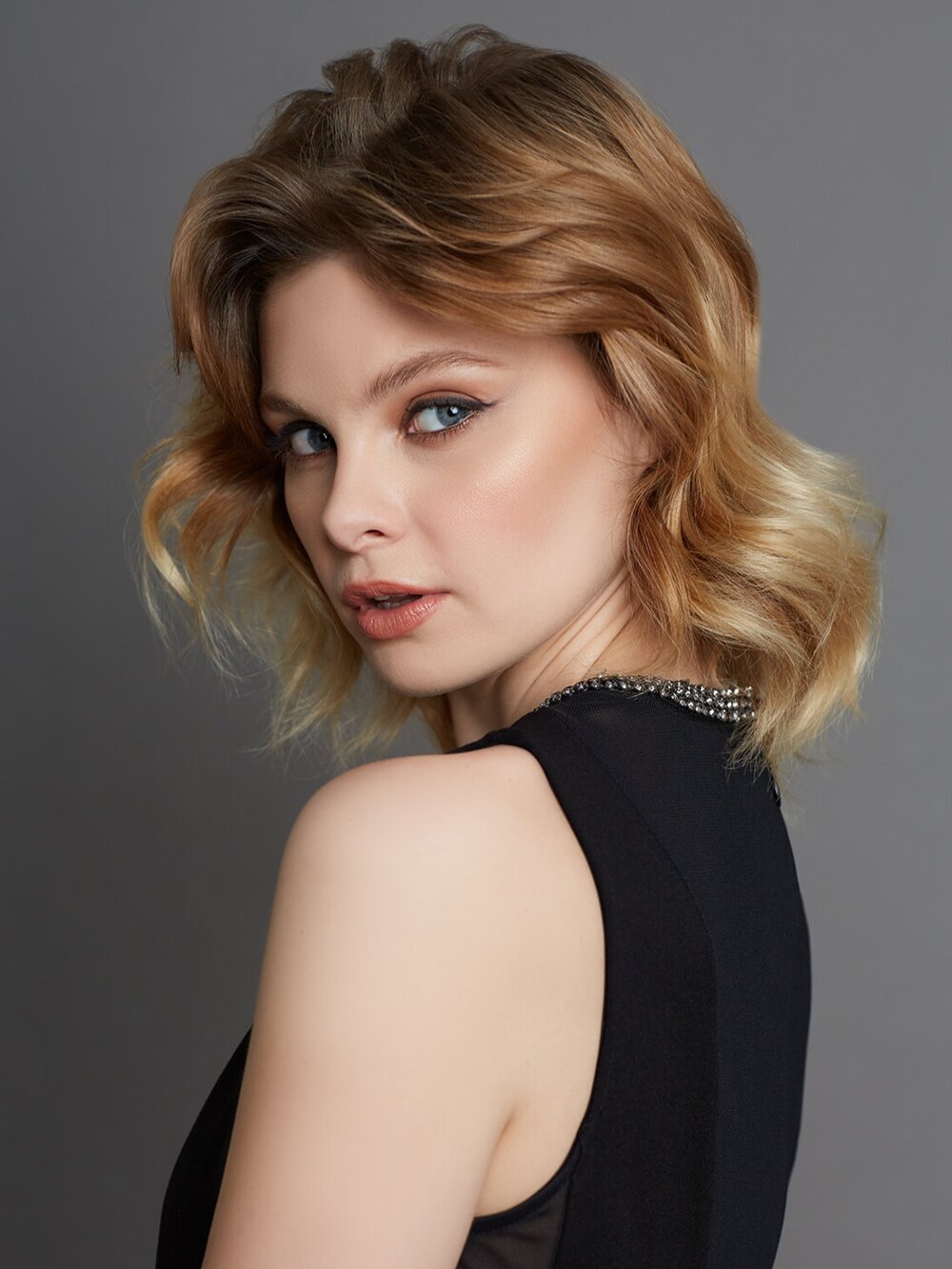 Which is better, balayage or highlights?
Do you know the difference between balayage and highlights?
Unless you're a professional hairstylist, we don't expect you to! The two styles are very similar on paper and can easily be confused, but they are actually entirely different styles.
If you're looking to switch up your style and add some light to your look, either of these could be what you're looking for. But you need to know the difference between them to make sure you get the style you're dreaming of.
Lucky for you, we've got a guide to help you out. Read on to find out more about balayage vs highlights.
What is balayage?
The word balayage actually comes from the French word that means to sweep, and it's very fitting for the technique! To get the sun kissed balayage look, colour is applied in a sweeping or stroking motion, and it's always applied freehand with a brush and without foils.
Classic balayage is applied free hand however we often use foil or cling film separate each section
Although it's become a super popular trend in recent years, balayage has actually been around for a while and its evolved quite a lot. In fact, the first balayage technique involved around 1,000 feet of cotton, which we definitely don't use now! Just a quick Google search of balayage will show you just how much variation there is to the look, from soft and natural to high-contrast colours.
Foiliyage is a fork off of the balayage technique, and it uses a combination of different techniques foils to create a softer, more lived-in effect that than either balayage or classic highlights. It also intensifies the colour of a balayage, leading to a whole new style! At our salon, we often used foiliyage for clients who want to transition away from regular highlights or when we're working with darker base colours.
If you wonder why our stylists bring out the foil for what you thought was a balayage, don't worry! We're simply using the foil to help separate each section and get better lift for a lighter, brighter colour and to avoid ashy tones. Classic Balayage is meant to be a warm, soft, and sun kissed look. If you're after a cooler result, foils will help us get there.
Trust your colourist, foils no longer mean stripes but instead mean beautifully natural hair!
Benefits of Balayage
There are tonnes of balayage benefits that have contributed to it becoming such a popular style (aside from how gorgeous it is, of course). Let's dive into them so that you can work out whether this is the right look for you.
Completely Bespoke to You
Because balayage is painted on with a freehand technique, your style is going to be entirely unique to you! There are no rules about where the colour should go up to or how much of your hair should even be coloured, so you can create the custom look you've been daydreaming about. Make sure to speak with your stylist first about what you want (pictures are always useful) and we'll work with your hair to help create a bespoke look.
It's Easy to Maintain
Balayage is super easy to maintain – much easier than a full head of colour or even just highlights! Part of the reason for this is because it doesn't reach the root in most cases, instead blending into your root colour from the ends of your hair up. So, there's no root regrowth to worry about!
You can just let your hair grow without worrying, although balayage on short hair might need more regular touch-ups to maintain. A lot of clients with longer hair can go months without a touch-up, which is brilliant if you're super busy or don't like to spend hours in the salon chair.
Great as an Introduction to Colour
If you've never tried a different colour in your hair, it can be scary! Balayage lets you try out a change without as much of a commitment. Rather than seeing a full head of different colour which can be overwhelming, you can blend your colour with your regular natural base for a less intense look. If you let us know you're a little worried, we can make sure to do a more understated balayage, too.
If you love it, you can start to experiment more! With hair colours, it's often about building confidence until you find your perfect colour.
Enhance Your Natural Colour
Balayage is a dream for making your natural colour pop! If you have mousy brown or even black hair, adding a light balayage can bring your look to life, creating a contrast that enhances your natural colour.
Low Commitment
Because we only colour part of your hair, it's much less commitment than a full head. If you want to change your look with the seasons, we can do it easily! You'll also experience less damage (especially when our professionals create your balayage) which is an added bonus.
Is Balayage Just for Blondes?
Definitely not! Balayage can be used on all-natural base colours, from dark brown to light blonde. The one thing to consider is that the darker your hair is, the warmer the result is going to be. This is because of the underlying pigment in your hair.
So, if your natural colour is brunette, the underlying pigment is going to be a red/orange tone, and when your hair is lightened, this is going to come through. Because the balayage look is meant to look natural, you can use your natural tone to pick your perfect balayage. Really, darker bases are suited to deeper colours, like dark red and mahogany, and chestnut tones which can be achieved using a balayage technique. If you're want to lighten your hair by more than 1-2 levels, we will always recommend a foiling technique.
How to Choose Your Balayage Colour
When you're in the salon, you can have a consultation to find your perfect colour. There are a number of things that can affect which balayage is going to look best on you, and let's take a look at them!
Skin Tone
If you have a warm skin tone, you should stick to warmer and richer tones. Blondes will look great with bright, summer shades, and even apricot tones will look amazing! For brunettes or brown hair with highlights, try super sweet caramel and toffee tones.
If you have a neutral skin tone, opt for a more muted colour. Champagne blondes with iridescent and beigey hues are perfect for you.
Cooler skin tones are going to suit ashier tones that are clean and bright, like a beautiful platinum blonde – one of the most on-trend colours right now!
Blend and Contrast
Did you know that your eye colour can change the type of hair colour that's going to suit you? The general rule is that light eyes with light hair should stay close to their natural colour. But, because balayage isn't an all-over colour and we can adjust the placement to suit you, you don't have to follow this rule quite so closely as your natural base will do the work for you.
If your eyes and hair are already in different ranges (like dark hair and light eyes), you're in luck! You should be able to pull off pretty much any hair colour, so get ready for many envious looks.
How to Turn Ombre into Balayage
Ombre is the transition of one colour into another, blending the two for a seamless look. Usually, there are three tones moving from dark to light, with all ends lifted for an intense contrast. Balayage is a much softer look with a wider variety of tones and depths, giving you more dimension.
Another important difference is the colour blend. In ombre, the transition is horizontal, whilst balayage has a vertical blend.
How Long Does Balayage Last?
We've already mentioned that balayage is definitely a low-maintenance look, but how often you have yours touched up depends on the technique needed to achieve your perfect shade. In fact, we have clients coming in for touch-ups after 6 weeks, and others leaving their balayage for 6 months!
Whereas blonde hair highlights directly to your root will have a much more obvious regrowth. You'll need yours topped up every 4-8 weeks depending on how quickly your locks grow.
How to Maintain Balayage and Highlights
Because balayage and highlights both lighten your hair, aftercare is vital! This will help you maintain your colour and save your locks from some serious damage. We love the Blonde Abslou Range from Kerastase, which has been specifically designed to nourish, protect, and strengthen your lightened hair, perfect for blonde highlights or balayage hair.
When you come to our salon, our hairdressers can also assess the health of your hair and advise you on the right aftercare. Your tresses need the right balance of moisture and protein to stay healthy.
Brittle hair is in need of hydration, whereas weak hair is in need of a quick protein hit! Too much or too little protein can lead to breakage, so trust your stylist's advice after you've had your hair lightened.
If your colour is in need of a refresh, give a toner a try! These can't lighten your hair, but they can neutralise unwanted tones and or add warmth leading to the perfect colour.
How to Style Balayage
Balayage always looks better with some kind of movement. Curls or waves really help to bring out the different tones and create more depth. A brilliant colourist should be able to give you a seamless balayage that works both on straight and wavy hair, but just remember that balayage and beachy waves were always destined for each other! Check out our tutorials on creating waves and texture.
Book in For Your Balayage
Now you know the difference between balayage and highlights, it's time to decide which is the perfect look for you and book an appointment at our salon! With a team of trusted colourists, your hair is in good hands at NOCO Hair. If you're still not sure what look you want, don't worry; book in a consultation and we'll help you find your dream look. 
We recommend that all new colour clients visit us for a consultation prior to their appointment so that we can book you in for the right service…