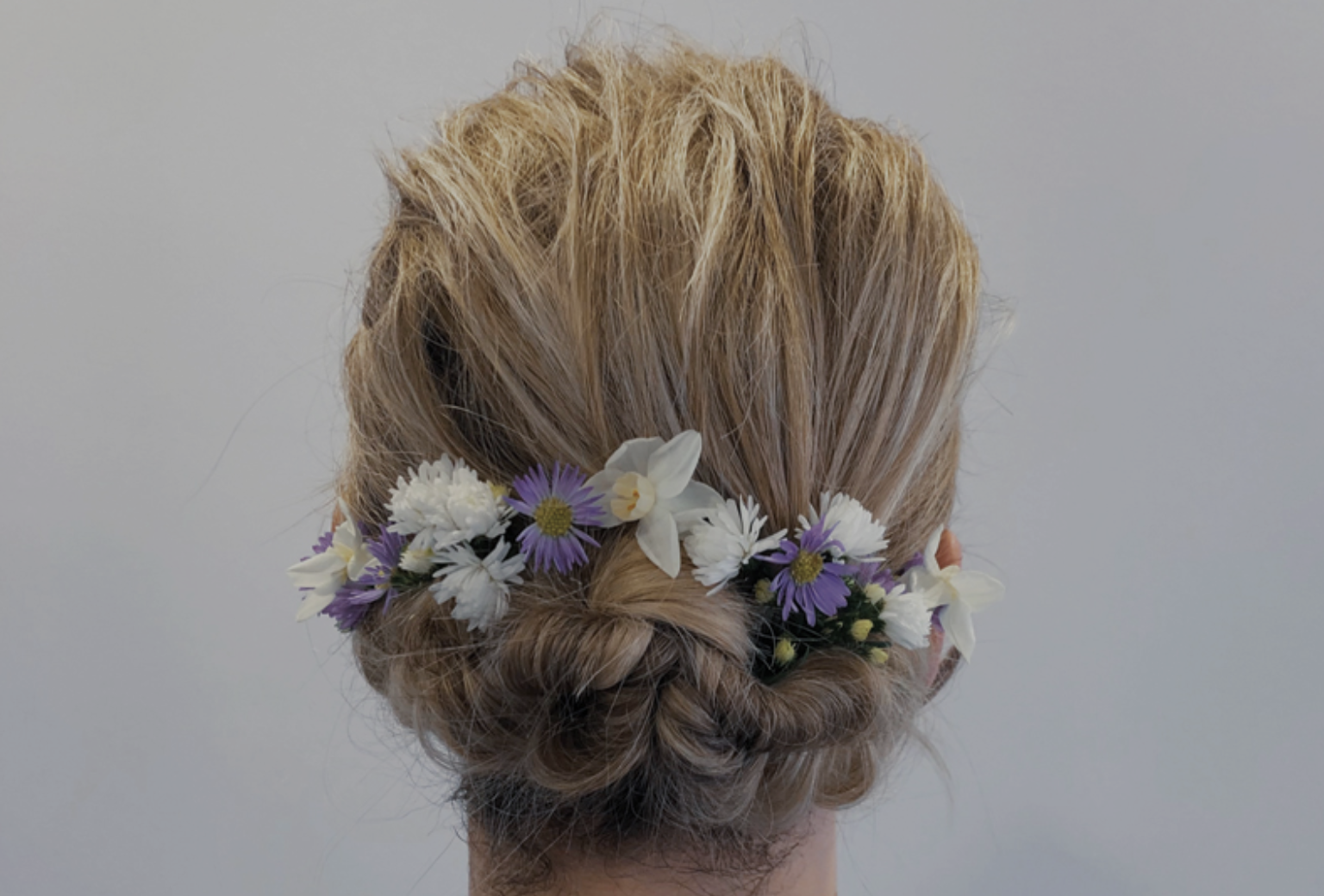 Big day up-dos at Noco Hair
Fresh local flowers, chignons and sustainable beauty: Crystal Rose checks out the bridal styling service available at Noco Hair
If you seek a chic, modern, social space where your locks can be transformed into a style suitable for your big day, then Noco Hair on Whiteladies Road could be your knight in shining armour. Having opened its doors three months ago, Noco makes a good first impression with its minimal yet sophisticated digs. Long gone are the days of sitting in the corner (you know Baby ain't playin') while waiting for your colourist to mix up your chosen shade in the back. At Noco you can expect to be seated in the centre of the room surrounded by the most beautiful circular mirrors. And, when it comes to picking your hue, simply head up to the colour bar and watch the stylist mix-up and create your desired cocktail of colour. With all the styling tables easily moved and constant chatter flowing, Noco is all about inclusivity and versatility.
Owners Noel Halligan and Corey Taylor, previously at Sean Hanna, put the wheels in motion for Noco Hair just over a year ago – realising their potential after scooping up the L'Oréal Colour Trophy for the South West region. They've installed massage chairs – expect to have your head massaged and hair washed in a state of pure bliss – and beautiful, reclaimed Bristol scaffolding planks from Bristol Wood Recycling Project throughout the salon.
As graduate stylist Mia sets off on the hunt for fresh flowers, Noel and Corey get to work on creating a style that would be perfect for my wedding day. After a generous coating of the blow-dry primer from Davines, this lotion begins its work as an anti-frizz and anti-humidity agent that will make my hair easier to style.
With the salon launching a big sustainable beauty campaign this month, Noco Hair is at the forefront of industry change. There are taps designed to save on water, interior units that use recycled wood and the sustainable brand Davines which uses refillable bottles to reduce plastic waste. Noco also offers customers the option of bringing in old shampoo and conditioner bottles (any brand welcome) to receive a complimentary mask with a cut and blow-dry.
Noel applies a dry texturiser that instantly fills the room with the scent of vanilla cupcakes which stays with me throughout the day. Its purpose is to dry out the oils in my hair and make way for a more voluminous mane.
And so the backcombing begins. With the vision to create a quiff that sweeps into an elegant chignon, Noel delicately coats my hair in the Davines medium hairspray and sculpts my barnet into a city-chic pony. He and Corey begin braiding my hair into two fishtail plaits. Top tip: Noel's number one in hair styling is to use the Davines texturising dust. This holds the plaits in place and gives the hair more grip and it is therefore easier to create the perfect plait without the hair slipping through your fingers. Finishing with a stroke of the pintail comb – so no grips are needed – the fishtails are then pinned up onto my head.
The final show-stopper step uses the fresh, seasonal blooms from local independent florist Lloyds Flowers that are snipped and trimmed to prettily complement my hair-do. A combination of white daffodils (narcissi), Frikart's Aster and little white chrysanthemums are woven in – using the fishtail plaits as an anchor and providing the perfect finishing touch to my bespoke bridal look. Adding a little texture to the quiff by clamping the straighteners in a few places and adding a few more pins to create both rough and smooth textures, Noel and Corey are done.
Thanks to its totally fresh and updated take on bridal hair styling, Noco Hair is doing great things in the hair and beauty industry. And with plans to add more treatments and welcoming a few new faces to the team, the future looks bright and sustainable.
It was refreshing to see how much care, precision and expertise went into the styling. From making the effort to pop into a local florist and using conscientious brands, to the little details like the mini cafetière and bottle of milk presented for me to make my morning cup of coffee, Noco Hair is a great new addition to the city's hair and beauty scene and we're absolutely smitten.
• Bridal hair-up packages are available from £65 at Noco Hair. 147 Whiteladies Road, Bristol BS8 2QT; 0117 403 0998; nocohair.com