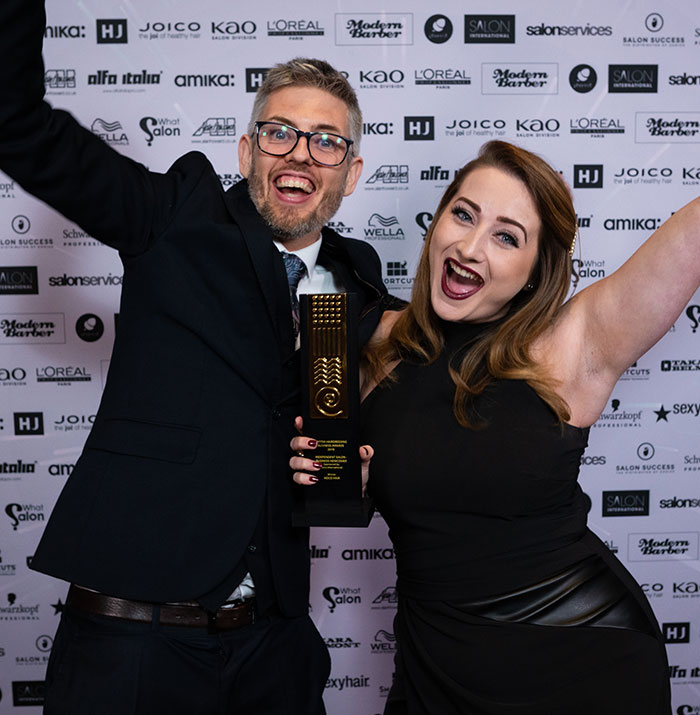 10 Reasons To Enter HJ's British Hairdressing Business Awards
If you've never entered HJ's British Hairdressing Business Awards but think this could be the year, here are ten great reasons why you really should.
1. You'll get loads of publicity
As well as coverage in HJ, your local press will be thrilled to hear about a national win – everyone loves a success story.
"Since winning we have been local celebrities," says Lorenzo Colangelo from The Gallery in Tunbridge Wells, who has won Salon of the Year 1 for three successive years. "We have seen an increase in new clients since all the coverage in the local press. You do have to work hard to get the most out of the win but, saying all that, we have seen an increase in turnover, an increase in clients and, best of all, an increase in morale amongst both our team and clients. The win has really focused our business, my leadership and the team's responsibility to delivering great service to our customers."
2. You'll attract better staff
The team that helped you win are obviously doing a great job, but when it comes to attracting new members of staff or growing the team, boasting an award for your business skills is bound to attract a high calibre of hairdresser.
"The win established our reputation locally and also further afield," say the team at multiple award-winners Tommy's. "We gained exposure through local news, media and social media, which in turn made us a more desirable employer. Being a business that can prove it takes its work seriously is a great thing to be known for, no matter what your location."
3. You'll find out things you never knew about your business
Nothing helps you focus on your salon's strengths and weaknesses like listing them for other people to read. Putting together an entry will allow you to take a long hard look at your business – what works, what doesn't, and where exactly you see yourself going.
"Entering the awards makes you even more passionate about what you do," says former Junior of the Year Monique Rogers-Fallon. "You have something to prove in entering a national award, and you have to have the evidence, enthusiasm and passion to back it up. It really made me analyse everything I had achieved and it gave me massive self-belief."
4. It's good news for clients – new and old
Clients love hearing about their salon's success – knowing that your hairdresser is an award-winner is a huge ego boost, as well as making them feel proud to promote you to their friends. For new clients picking a new salon from a seemingly endless list, one that has won national awards is naturally going to leap to the top of the list.
"I would say monetary-wise, winning increased our business by a further 15% bringing in new clients from PR coverage," says Lesley Charles at Hooker & Young, who won Franchisee of the Year back in 2014. "It also gives our existing and new clients the absolute experience; that is not only having great hair and feeling fabulous, but also being proud to come to a salon that excels in the industry."
5. It makes you a credible business
From meetings with the bank to promoting yourself a successful local employer amongst local school-leavers, a trophy saying that you're the very best in the business makes you more credible in everyone's eyes.
"Winning gives you huge credibility within the banking system and in local business community," says Tober Dicker, who is a former Business Director of the Year alongside partner Amanda. "Awards help to prove that we are not just a hairdressing business but a credible alternative to a career in almost any other field."
6. It motivates the team
A successful entry should include the entire team's contribution – not just one person at the very top saying what they think is working. From the receptionist to the top stylist, make sure everyone is involved and make sure they're all a part of the process. And what better night out could there be than a team trip to a glitzy hotel in London for the finals?
"The whole team felt an immense feeling of pride in our achievement," says Francesco Group training manager Craig Davies, who previously won the Training Award. "This pride, combined with the endorsement of being recognised as being amongst the best in our industry, drives a whole new kind of motivation. I now have a team that wants to push the boundaries higher and build on their success, as well as a desire and passion to shout to the world not just how good we are, but how brilliant a career in hairdressing is. There's a renewed, infectious enthusiasm that will help ensure the business grows from strength to strength."
7. It raises your profile in the industry
Whether it's entering other awards, gaining press coverage or just being known as experts, a win or place on the shortlist is great for raising your profile in the industry, whatever your end goal is.
"The Awards is such a powerful brand to be associated with and you really can't put a value on that association," say the team from Rainbow Room International George Square, who have won Salon Team of the Year. "It's a great PR tool because local press always want to hear about businesses that are performing well. This really helps to raise your profile on a local and national level."
8. It separates you from the competition locally
There's no shortage of salons these days – even on one local high street, it's easy to face stiff competition. With no regulation in the hairdressing industry and reputation everything, a prize win can really separate you from other salons in your local area.
"Entering is a great way to get your salon known in the local area as well as throughout the UK," says Dr Ros Debenham, from Radiance MediSpa, who won the Salon Design award in 2014. "Having only opened in April 2013, we're still working hard to build our clientele and to say that we were finalists – let alone winners – of a national award is a phenomenal achievement. Anyone who visits or knows the salon is wowed by this. Since winning, we have been approached by other business wanting to work with us. and we have also acquired a new stylist who has moved from another prestigious salon locally."
9. You'll gain a sense of achievement
Entering any awards is a great achievement and while it might be a cliché, it's also true that making the shortlist is a great achievement and one to shout about with your local press.
"Winning wasn't even on our mind," says Lorenzo from The Gallery. "If I'm honest, to become a finalist was our initial goal. To win seemed a bit too much of a dream, especially as it was our first entry into the awards. When we heard we were finalists we shouted about that from the roof tops and the PR we received from local press was great."
10. It's free!
You've got nothing to lose and absolutely everything to gain – so why wouldn't you enter the awards? It's worth spending plenty of time on a quality entry, but it's time well spent. Whether your make the shortlist or not, thinking about what you're most proud of as a team and producing a document presenting that information is a worthwhile task for any business.
Tommy Van Der Verken from Tommy's says: "Regardless of which award you enter, the process of putting together the information, reviewing performance, pulling apart processes and policies to find out how something works and why it gives you the end result is a fantastic opportunity to aid future growth and create a working profile to help build on."Enter HJ's British Hairdressing Business Awards today!