The days become longer and brighter, which can only mean one thing: summer is here! Although summer means beach days and holidays, it's important to know the dangers of those UV rays. 
You wouldn't step out into the summer sun without lathering up in sun cream, so why forget about those luscious locks?
Just like your skin, the sun will damage your hair too. Between sun, sea, and sand, your hair goes through a lot in those summer months. Without the correct hair care steps, the damage can really take a toll on your tresses. Read on to learn how to maintain healthy hair in the summer. 
How sun can damage your hair 
Those hot days and UV rays can be very damaging to your hair. It is crucial to understand those effects and the importance of protecting your hair from the sun. 
Cuticle damage – The cuticle is the outer layer of hair protecting the inside of the hair shaft from damage. The UV rays can break this down, causing your hair to dry out, your hair will then attract humidity and humidity means … FRIZZ! 
Inner damage – The sun weakens the internal structure of your hair and makes it prone to breakage and split ends.
Colour damage – Coloured hair is even more prone to sun damage. Colour treatments can already leave your hair dehydrated, and too much sun can leave it even more vulnerable to damage. Not to mention – the UV rays perform as a bleach which will slowly but surely fade any colour. Some more colour treatment tips to come… 
Water damage - There is nothing like a dip in the pool or a splash around in the sea during those hot summer months! However, sometimes the things we love hurt us the most… 
While you're splashing about in the pool, chlorine is stripping natural oils from your hair, making your hair dry and weak. This can lead to breakages. 
Salt water can have very similar effects to chlorine water, minus the chemicals. Salt water strips the hair of moisture, making it dry and more susceptible to breakages and split ends.  
How to know if your hair is sun damaged
Exposure to sun for a longer period of time will make changes to your hair more noticeable. Signs of damaged hair are:
Split ends – the heat stripping your hair of moisture will make it more prone to split ends and breakages.
Texture – being in the sun or the pool will strip your hair of its natural oils, causing it to become much more dryer and brittle. So, say goodbye to your silky-smooth hair.
Discolouration– UV rays react with the melanin in your hair, causing pigment changes. The chemicals in chlorine can also react with your hair – especially if it's dyed! – altering the colour.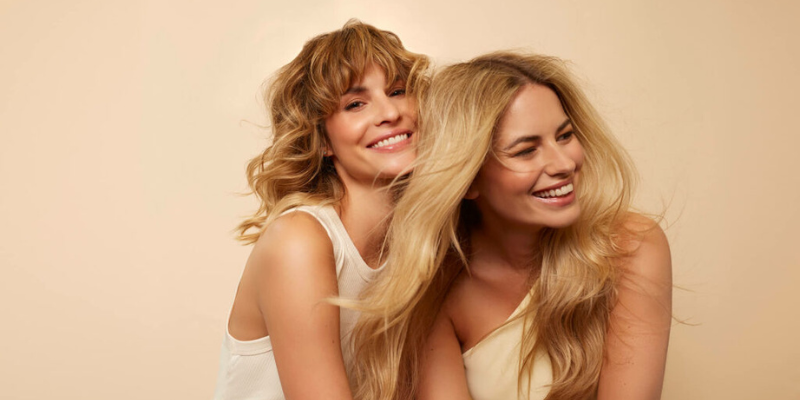 Tips and tricks you need to know to keep your hair healthy in that summer heat
Start with a summer trim 
It is important to give your hair a head start for summer. Visiting your salon and getting rid of those split ends will keep your hair healthy and easy to maintain in those hot summer months. 
Mask the Mane
One of the obvious and simple answers to protect your hair from the sun is wearing a hat or a scarf. Wearing a hat or a scarf act as a physical barrier to protect from those harsh UV rays! 
UV protection 
The first thing you do if you know you are going to be spending a day in the sun is lather up your sun cream so why not use the same protection for your hair. UV hair protectants come in all shapes and sizes, from gel to powder. Research the best product to protect your locks!
Hydration 
This is a tip you really shouldn't ignore. You could be doing everything right to keep your tresses intact but, without correct hydration, your hair will start to show signs of stress. Drinking water will not only provide hydration for your body but to your hair strands too!
Keep away from heat styling tools
With the sun already scorching your strands, using straighteners, curling irons or hair dryers will add to the heat damage. Try using more natural methods of styling your hair in the summertime. Air drying and braids will be your best friend.
Washing your hair 
It is likely that you will be washing your hair more frequently to help combat the dirt and sweat. 
However, beware of the fact that overly washing and shampooing your hair will strip any natural oils, therefore further drying your hair out! 
Try washing your hair 2-3 times a week and switching out your shampoo and conditioner routine for a more moisturising option. This will help with locking in any moisture in these drying months. 
A pro tip from us this summer is to rinse your hair with cold water after you wash your hair for maximum shine. This is because it will close the hair cuticle and allow the hair to reflect more light. 
Treatments 
Hair masks and leave-in conditioners will help you with adding that extra bit of moisture. Using moisturising treatments will add an extra layer of protection from those UV rays, making it harder for the sun to damage your hair. 
This tip is key if you are in and out of the water! Fully saturating your hair before diving into the pool will lock in that moisture it needs after sun exposure. Note that already wet hair won't absorb as much saltwater or chlorine chemicals.
Fight the frizz
In the heat and humidity, frizzy hair will be your worst enemy. Keeping your hair healthy and well maintained will help keep your frizz to a minimum. Keep your eye out for shampoos and conditioners with two ingredients: amino-silicones, and cationic surfactants, these two ingredients will help neutralise your hair and prevent the humidity from winning this round!
If the frizz is getting the best of you this summer, here at NOCO we offer Phrizzy-o-therapy treatment to help combat the humidity. 
Colour care
Coloured hair is already tricky to maintain, let alone adding those summer elements into the mix. If you have coloured hair, exposure to the sun can have many negative effects on your tresses. 
Chlorine chemicals can strip out the colour your hair is dyed and often turn the dye brassy or faded. Ensure you are using colour preserving hair care products during the hot summer months. 
Dyed hair is a lot more prone to dryness as the strands are already stripped of natural oils more than undyed hair. Using hydrating products is your only answer at this time of year; don't let your hair damage ruin your time in the sun.
There you have it …
Understanding the importance of hair care is vital during these summer months! Stick to our useful haircare tips for summer and help protect your hair.
Here at NOCO, we are here to help you with any hair care needs, whether you are wanting your start of summer trim or a deep conditioning treatment to help bring back your shine.
 Contact us today to book this summer!