"We always say clients arrive in a taxi and leave in a limo"
This was a key direction NOCO co-founder Noel gave to Jack Kinsey about transforming our luxury salon on Whiteladies Road. The customer experience is the foundation of everything NOCO does, so it was vital that the redesign echoed the idea of taking guests to a transformational space that took them to a new level of luxury and glamour. However, this wasn't your regular salon refurbishment.
It's been months since we were first contacted about being a part of BBC's Interior Design Masters' exciting semi-final, but we were sworn to secrecy until the show aired. Now, we can finally reveal all the exciting details of our Clifton salon's incredible "japandi" redesign!
Can't wait to see the redesign in person? Book your next service now
Interior Design Masters
If you've never seen the show, Interior Design Masters isn't too different from other BBC series like The Great British Bake Off or Glow Up. Each season, 10 talented amateur interior designers are given the chance to redesign unique spaces to impress design expert Michelle Ogundehin and various guest judges.
Contestants are given a different interior design brief each week (this season alone has seen nurseries, beach chalets, and wedding venues), with the least successful designer being sent home at the end of each episode until the last competitor standing is named the winner. Oh, and comedian Alan Carr is along for the ride as presenter.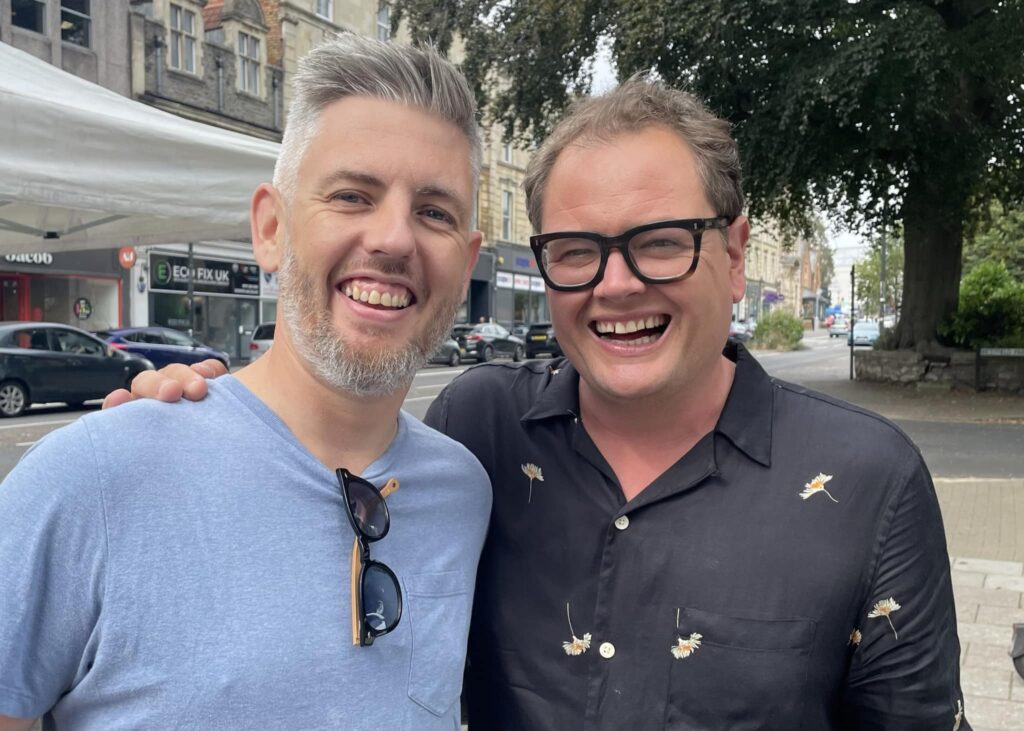 A Visit from the BBC
The show has visited Bristol before, transforming local restaurants – including our neighbour, Muino. This time, they reached out to several local hair salons, and we were excited to be among them.
For some time, we had been considering some changes to make the salon a little less monotone and more welcoming to our guests. This was the perfect opportunity to give NOCO a glow-up while supporting the development of a promising new creative.
Our Interior Designer
Our salon being a part of the semi-finals meant that the standard of all the designers was high, but we were particularly excited to find out we were working with Jack Kinsey. The Fine Art Graduate has created some incredible spaces throughout the series, including a stunning 1930s beach hut for the NHS and a maximalist Scottish hotel room, so we were excited to get him onboard with NOCO.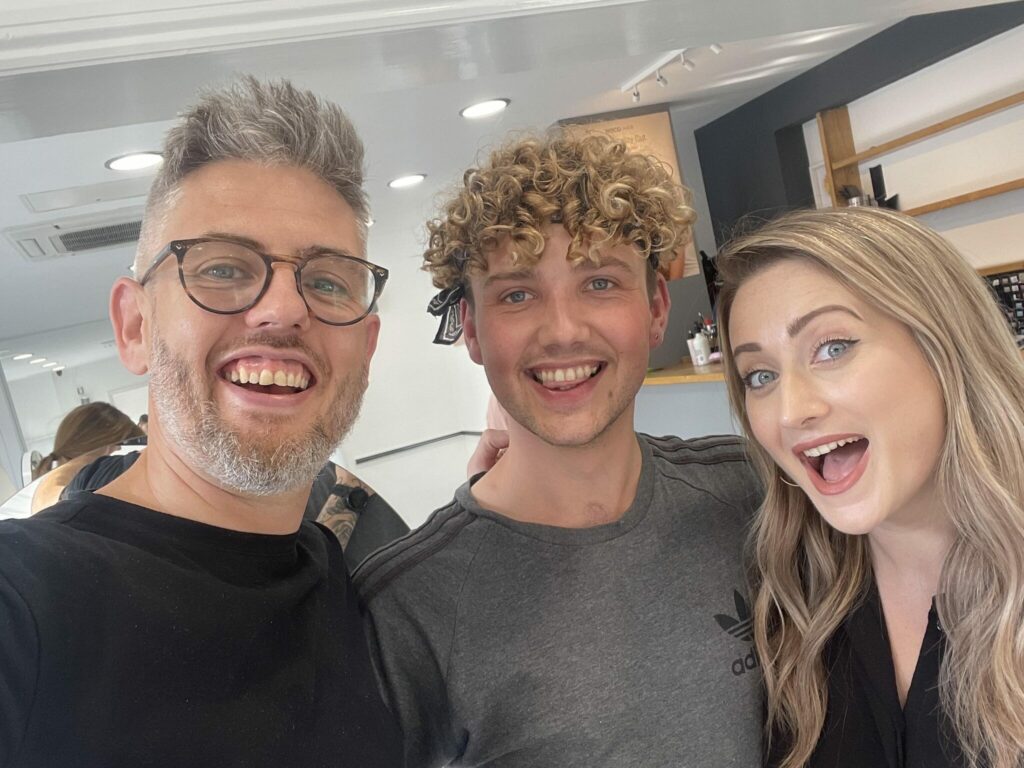 During our initial chat, we spoke to him about the importance of creating a unique, deluxe experience for our guests which left them feeling elevated: body, hair, and soul. We also spoke about our preference for a Scandinavian-inspired design to harmonise with our clean, sophisticated, bold brand image.
Jack's final design ran with the brief to combine elements of scandi design with a Japanese influence – dubbed "Japandi"!
"I just had the best time making over this incredible hair salon in Bristol! Thank you @nocohair for being so open to ideas and letting me free-style your incredible space. "

Jack Kinsey
Over 2 days, Jack worked with a team of builders and decorators to re-style every part of the salon, with a particular focus on the Welcome Area and Relaxation Zone. The Results?
Presenting… the NOCO Bristol redesign!
Softness and colour have been added all over the salon with the addition of yellows, navy, and burnt oranges, along with beautiful live plants.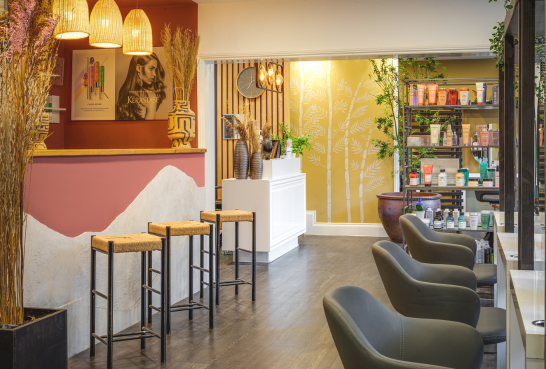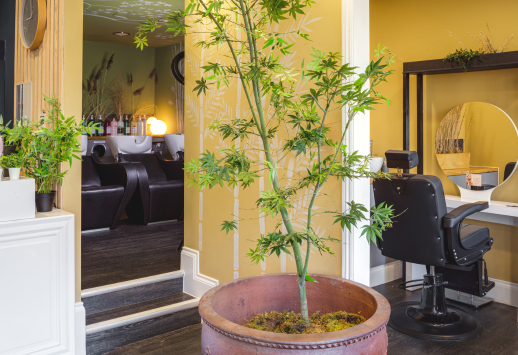 Our welcome area has been embellished with rattan lamps, a sunset-coloured mural, and an abstract mountain effect.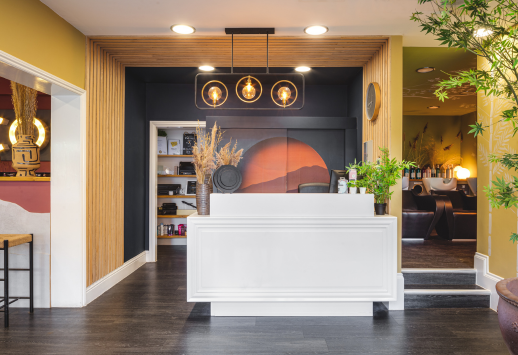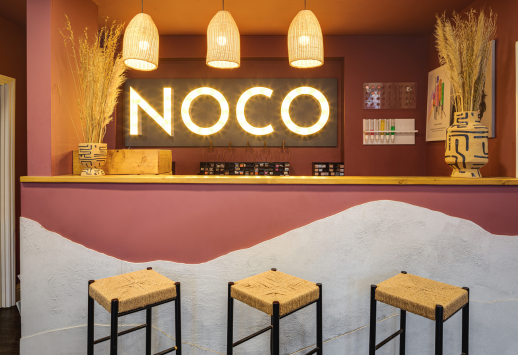 Our Relaxation Zone can now fully live up to its name with a peaceful tree and bamboo mural covering several walls and the ceiling, teleporting guests to a meditative space while they sink into their massage chairs.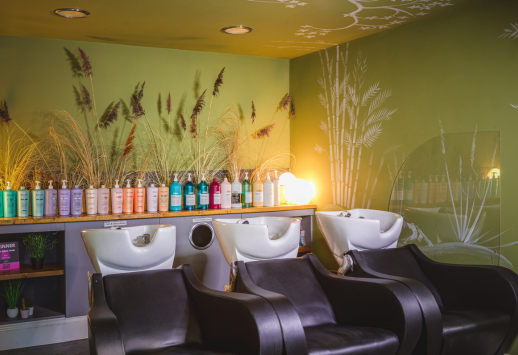 You can watch Jack's walkthrough of the finished design here.
The Feedback?
The judges, Michelle and Mary Portas (yes, really – The Queen of Shops herself!) were just as impressed as we were, awarding Jack the first place in the grand finale for his "upmarket and chic" design. "I was so surprised in terms of the beautiful artwork," glowed Mary during the debrief. "It just feels wonderful".
Social media was awash with praise too!
"Just wow! 🔥🔥🔥 this space is so luscious"

@ryelliot (former contestant)
"That reception is stunning! I'm very much here for the Japandi aesthetic ❤️"

@bananasnickers
"know the shop, live in Bristol, will be going up to look! Just love it 💖😁"

@sheronhepper
"knockout!!! ❤️ my favourite room of yours and perhaps of any the whole series"

@thewhitehome (former contestant)
"Loved the salon and your bamboo artwork – sooo clever 😍 it has the wow factor"

@nigelalexanderinteriors
"Great design 🙌 Dead classy. Loved the real plants"

@windmillhillantiques
"I love Japandi, a bit of Scandi and a bit of Japan mixed works perfectly. It love the Japanese for there organised way of life and the Nordic influences of light wood and functional, practical furniture."

@oldschoolreno1855
Interested in Hearing More?
You can watch our starring role in the episode on iplayer now, or why not visit the salon to see for yourself?
We offer a range of unisex cuts, colours, and treatments to bring the wow factor to your look and help you feel ready to take on the world and win! Book in a service or view our price list now.